Krazan provides analysis of soil, rock, and groundwater in relation to Site Development. Our Services include geotechnical engineering investigations and geologic hazard evaluations that evaluate the development in terms of potential landslides, damage associated with earthquakes, fault movement, ground settlement, cracking, and sliding related to earthquake shaking, erosion, sedimentation, and floods to determine site suitability and to provide specific practical design recommendations.
Krazan currently owns and operates its own fleet of drilling equipment capable of performing geotechnical drilling, sampling, and in-situ testing (CPT, field vane, pressuremeter testing). Our high torque hollow stem auger rigs are equipped with an L-8 moyno pump and can drill to a depth of 200 feet or more.
Click here to view some of our recent geotechnical & geosciences work.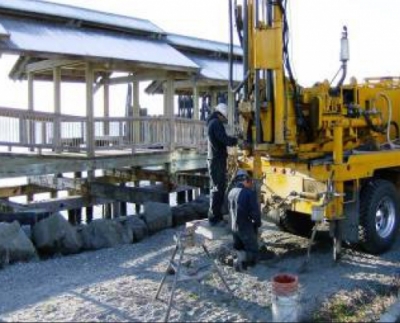 Site Characterization, Field Exploration, In-situ Subsurface Investigation

Excavation, Foundation, and Retaining Structures Design

Recommendations associated with Roadway subgrade and Pavement Design

Subsurface soil and rock Investigation

Temporary Shoring/Bracing System Design, Permanent Shoring Design

Soldier Pile Walls (Cantilevered and Tieback walls)

Soil Nailing

Sheet Piles

MSE Structures and Gabion Walls

Slope Hazard Identification, Slope Stability Analysis, and Slope Stabilization Recommendations

Settlement and Subsidence Analysis
Shallow Foundations and Rigid Mats

Bridge Foundations and Deep Foundations (piles and piers)

Deep, Dynamic Ground Improvement, Surcharge, and Grouting

Expansive/Collapsing Soils

Underpinning and Special Foundations

Recommendations for Construction Dewatering and Drainage

Compaction Monitoring and Testing

Marine and Coastal Engineering

Geophysical Surveys

Liquefaction and Lateral Spread Analysis

Soil Infiltration (Percolation) Testing